A tooth that has been structurally damaged by decay or trauma sometimes needs to be crowned or "capped" so that it can look good and function properly again. A crown is a durable covering that is custom-made to fit over the entire tooth from the gum line up.
Advanced dental technology known as Computer-Aided Design/Computer-Aided Manufacturing, or CAD/CAM, makes it possible to fabricate excellent fit and appearance for restorations.
Best of all, studies have shown that CAD/CAM tooth restorations are just as successful as crowns made with traditional materials and techniques. And the amazingly lifelike appearance means that no one will know your tooth has been restored.
The iTero Element Scanner is a state-of-the-art digital impression system that eliminates the need for messy putty in your mouth. With our iTero Element Scanner, we can digitally capture a detailed 3D model of your teeth and gums. Not only is this process far more comfortable than the old putty based impressions, but it's faster and can offer a superior clinical endpoint.
No goop or gag to worry about
Fast, accurate impression
Ideal for crowns, bridges, implants, and Invisalign® clear aligners and retainers
See a simulation of your potential Invisalign treatment outcome
Let us tell you if this right for you
During the impression process, you can breathe or swallow as you normally would. You can even pause during the process if you need to sneeze or just want to ask a question. The scanner gives us a 3D model of your mouth that can be used for your dental services.
With the help of the laboratory, your crown will be designed and finished to the perfect shape for your teeth. The software can even be used to create a mirror-image twin of the same tooth on the other side of your mouth, for the most natural-looking result possible. Then a block of dental ceramic material is chosen in the shade that most closely matches your own teeth. The computer's digital design is transmitted to a milling machine that carves the crown from the ceramic block.
Once the crown's fit has been verified, and any necessary aesthetic enhancements have been made to the crown's surface (staining and glazing, for example), the crown will be bonded to your tooth.
Caring for Your New Ceramic Crown
Crowned teeth require the same conscientious care as your natural teeth. Be sure to brush and floss between all of your teeth — restored and natural — every day to reduce the build-up of dental plaque. When you have crowns, it is even more important to maintain your regular schedule of professional cleanings at the dental office. Avoid using your teeth as tools (to open packages, for example). If you have a grinding habit, wearing a nightguard would be a good idea to protect your teeth and your investment. A well-cared-for crown will last for years to come.
Related Articles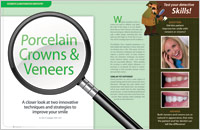 Porcelain Crowns & Veneers Dear Doctor magazine examines two innovative strategies for improving your smile. In many instances, these two restorative techniques can produce nearly identical aesthetic results, even though they are designed differently for handling different structural problems... Read Article
Value Of Quality Care Are all crowns created equal? And why are some crowns more expensive than others? Crown fabrication costs depend upon the materials used and the time needed to create them, among other factors. Dear Doctor magazine examines these variables... Read Article